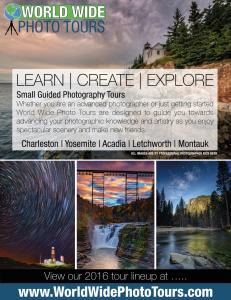 Rick Berk and Worldwide Photo Tours are proud to announce that Rick has been selected as the lead instructor for Worldwide Photo Tours' 2016 tours.

Worldwide Phototours, based in Islip, NY, has five tours planned for 2016, including Charleston, SC, Yosemite National Park, Acadia National Park, Letchworth State Park, NY, and Montauk & Long Island's East End.

Rick has been a photographer for over 20 years, and has been published in magazines and books around the world. For the past 8 years, Rick has also been a trainer and instructor for Canon USA and Lytro, Inc., teaching workshops and training dealers on photo technology and products.

Rick's work can be seen at www.rickberk.com. For more information on Worldwide Photo Tours, visit www.worldwidephototours.com.